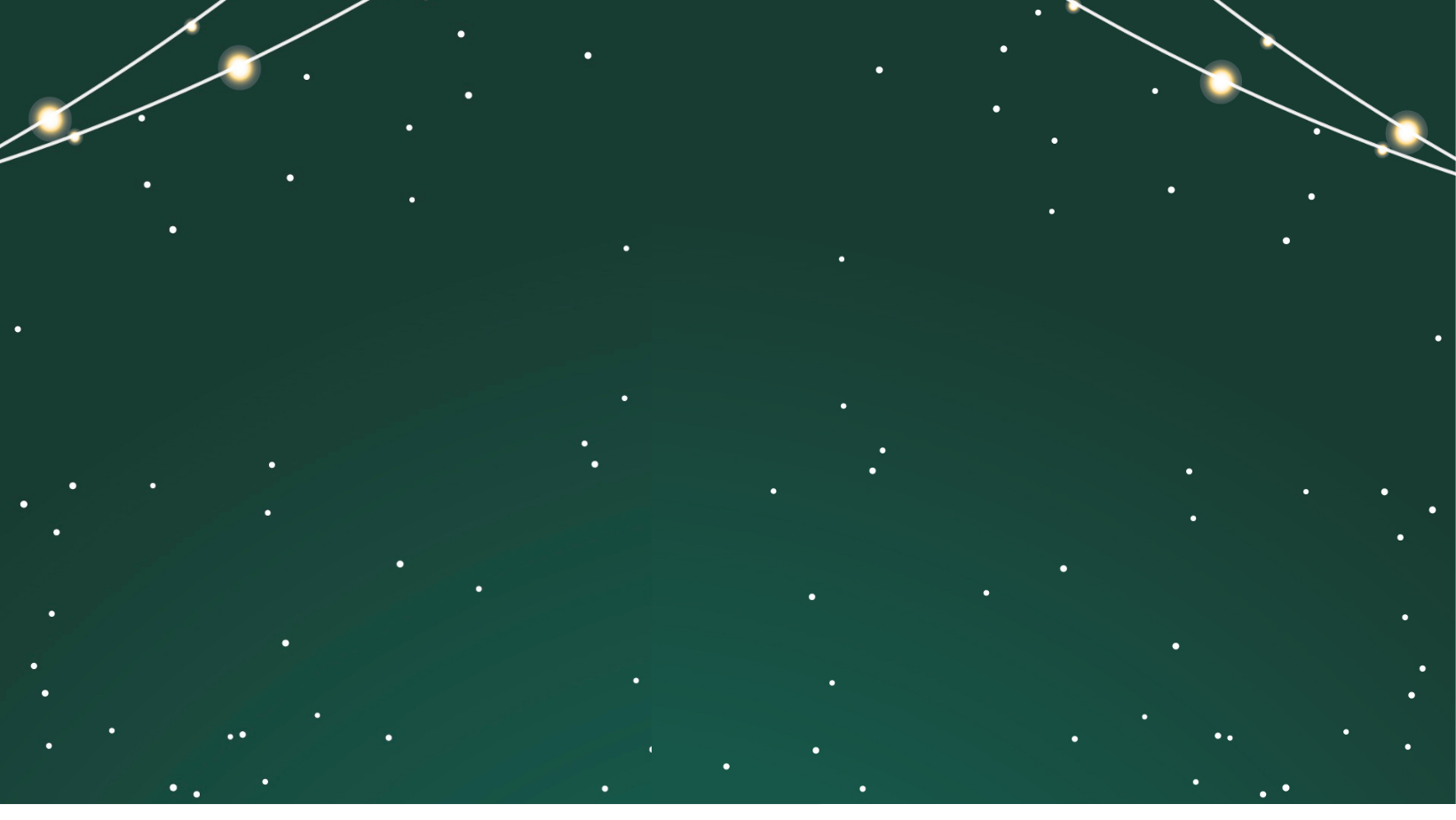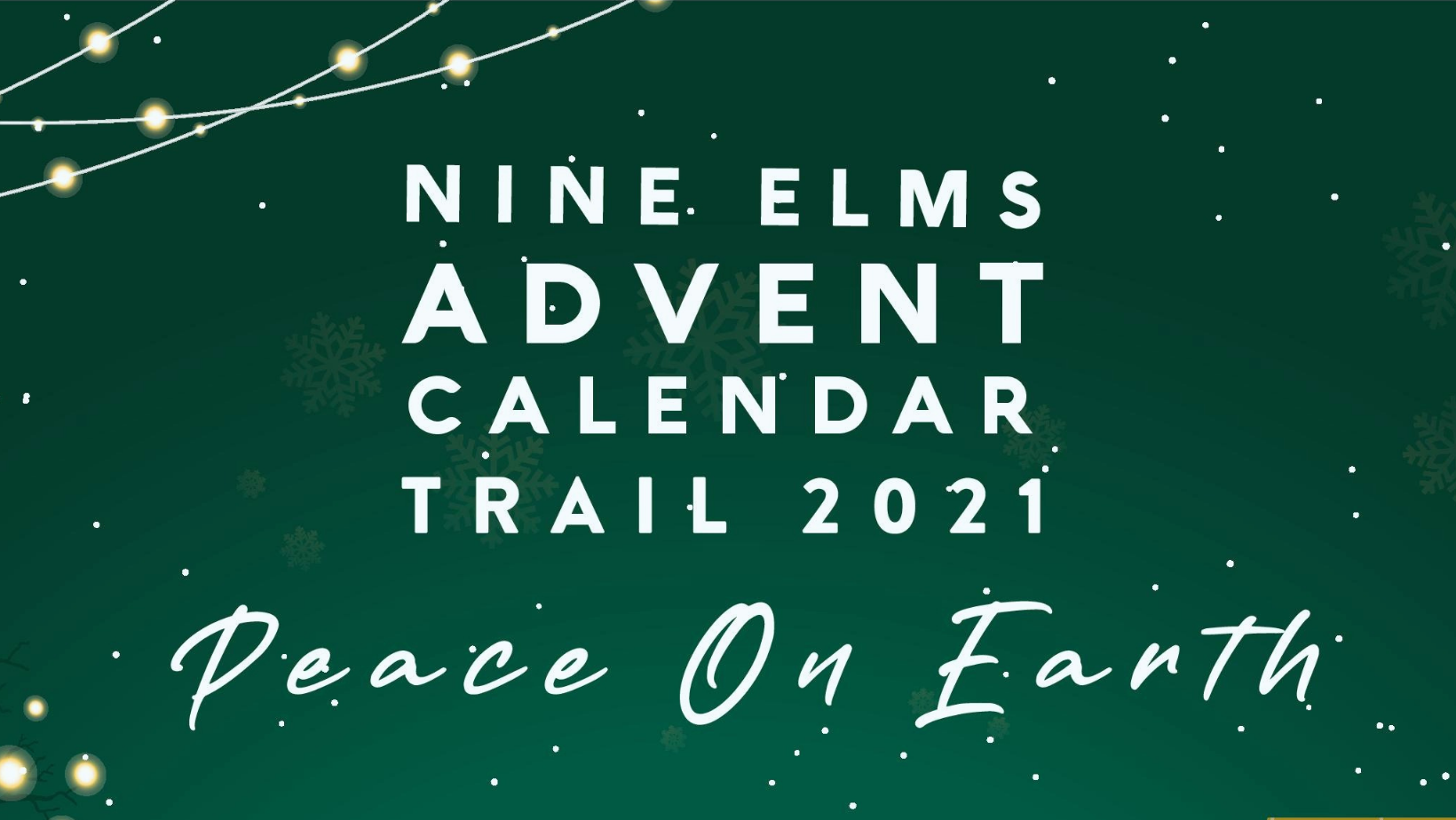 Share your Feedback: Art Trail 2021 Survey
Trail Map: Discover 24 Advent Windows in Nine Elms & the Artists
click the number to view full details of each window installation & the artist
Follow the Art Trail
on foot: to see all 24 window installations anytime from 1st December to 5th January 2022
online: one window, artist & venue will be put in the spotlight via social media each day from 1st-24th December 2021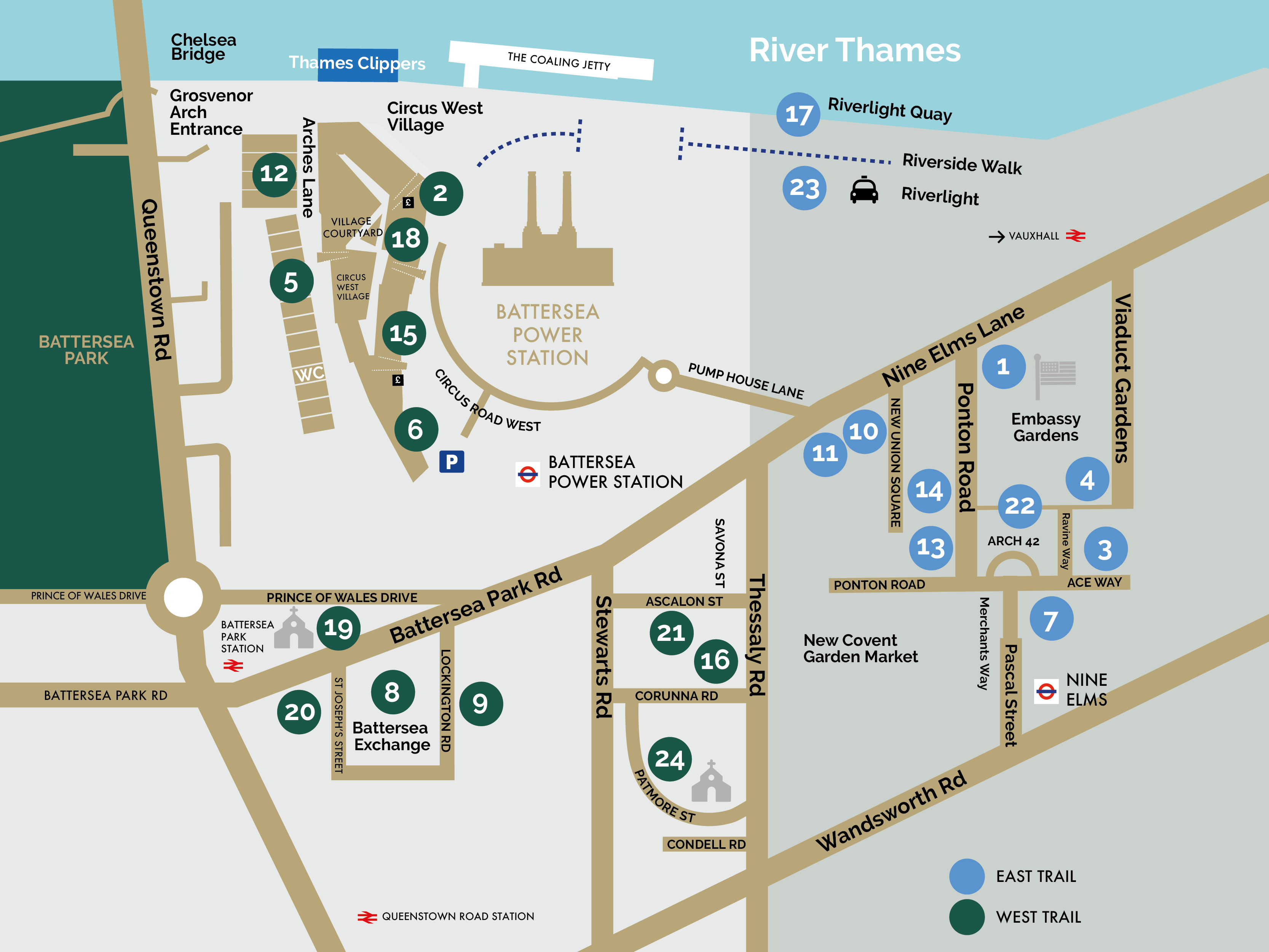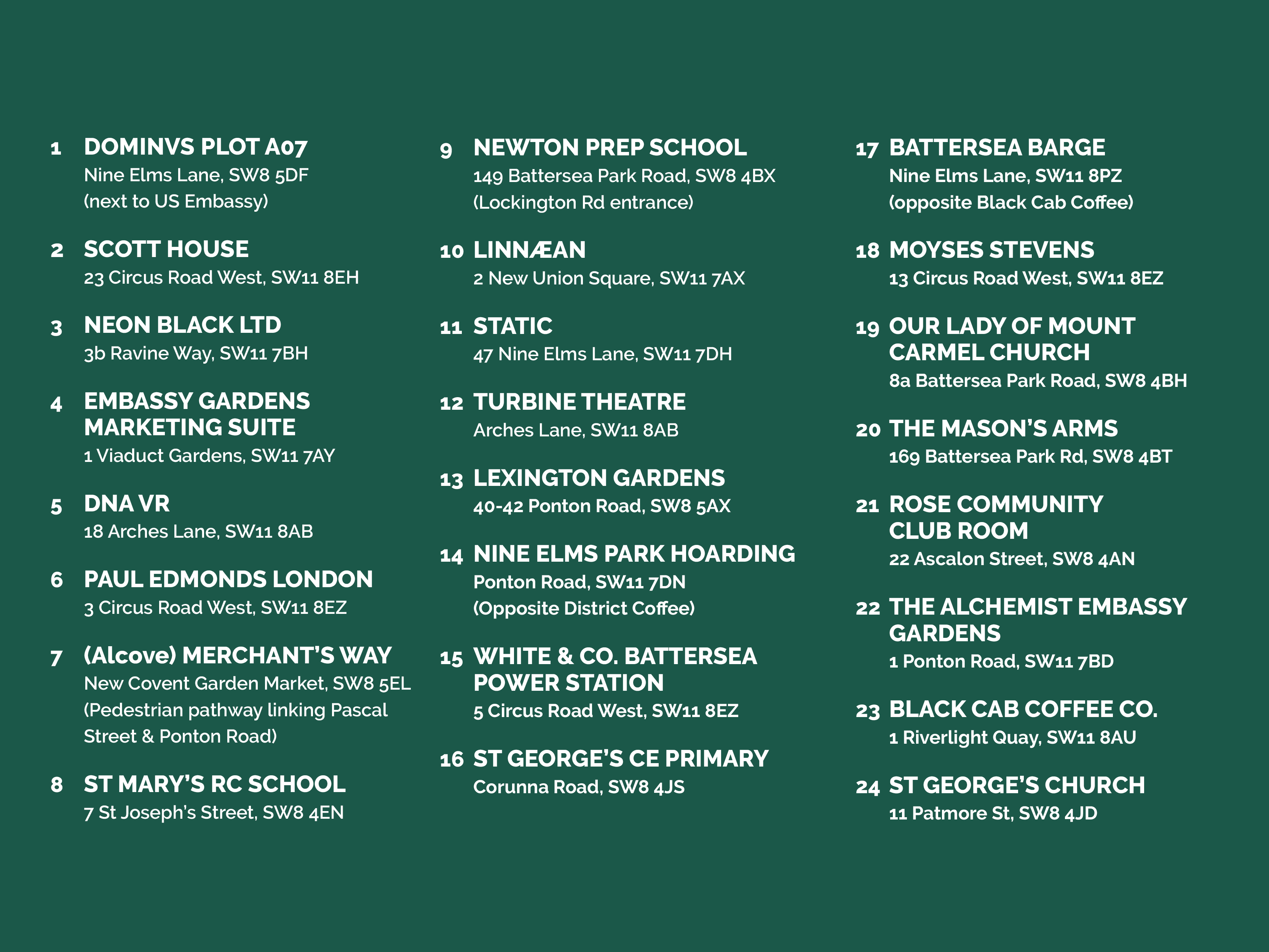 Photo Competition!
Share your best photos of the Advent Windows via social media for a chance to WIN one of 2 bundles of Gift Vouchers - each worth over £200!
TO ENTER
1) Follow @NineElmsArtsMinistry on Facebook + Instagram, or @9ElmsArtsRev on Twitter
2) Post a photo of any Advent Window from the Nine Elms Advent Calendar Art Trail 2021 on Twitter, Facebook or Instagram
3) Tag Nine Elms Arts Ministry and use #NineElmsAdvent
Note: Please ensure your privacy settings allow us to see your posts (e.g. if you have a private account).
PRIZES
Bundle 1:
1 workshop place to learn how to create Hand Tied Bouquets at Battersea Flower School - Moyses Florist
Cut & Blow Dry - Linnaean Living
Breakfast for 2 - Black Cab Coffee
Bottle of Prosecco - Battersea Barge

Bundle 2:
Dinner for 2 with cocktails - The Alchemist
£60 voucher - John Lewis
1 Month Membership - Static Flow

T's & C's:
The 2 best photos will be chosen after the Art Trail ends on 5th January 2022.
Winners will be contacted via Direct Message on social media.
Prizes to be collected in person.
No cash alternatives.
Winning photos will be shared by Nine Elms Arts Ministry channels.
Note: Nine Elms Arts Ministry cannot accept responsibility for any delay or cancellation of voucher prizes, such as in the event of further COVID restrictions or business closures. We thank you for your understanding.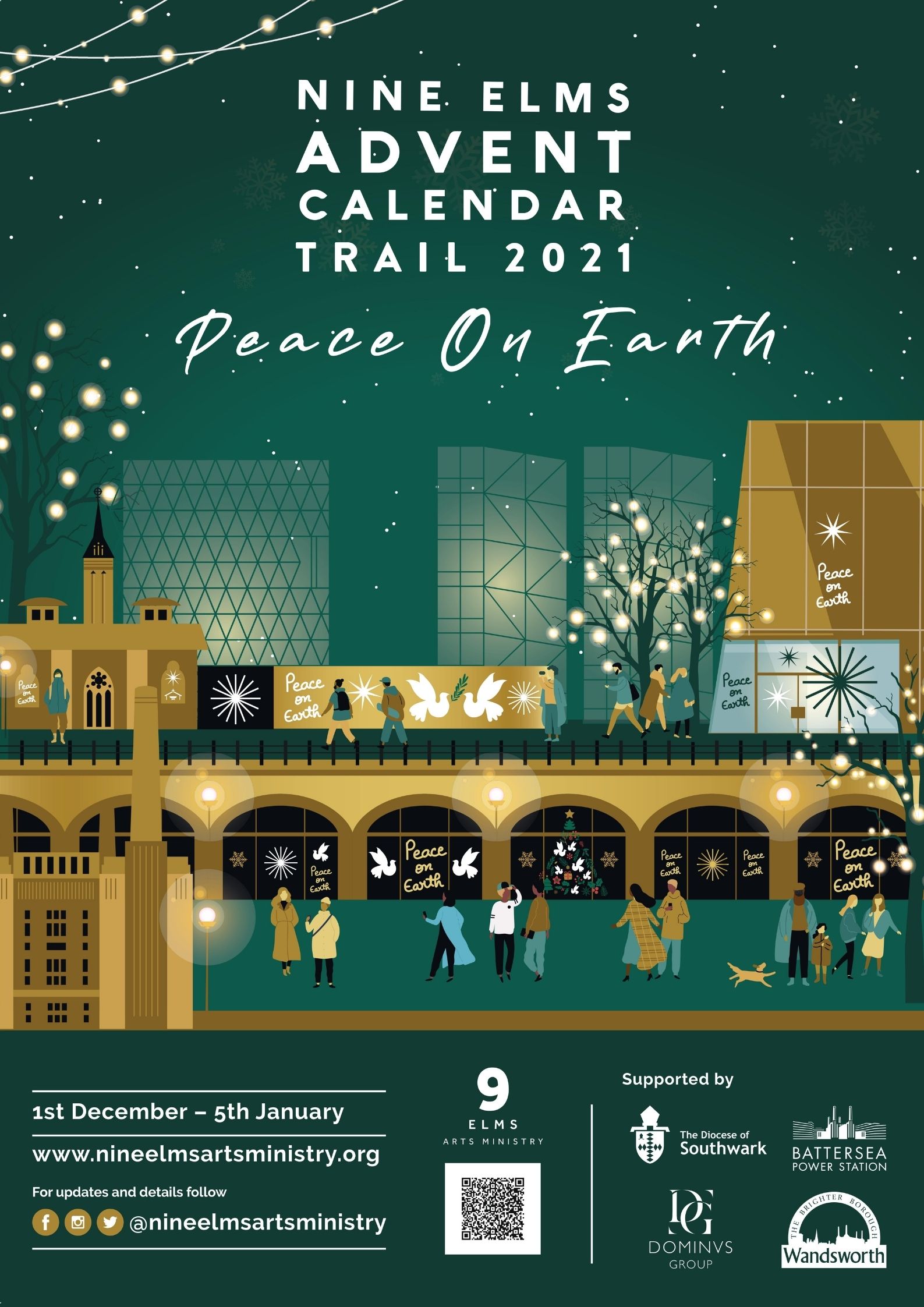 With thanks to our kind sponsors, supporters & partners
Flagship Sponsors: Dominvs Group and Battersea Power Station Foundation. Event Sponsors: Embassy Gardens and Garton Jones (Chelsea Bridge Wharf). Local Sponsors: Bellway Homes, Quadrant, Covent Garden Market Authority, Vinci/St Mowden and Galliard Homes. Special thanks to the Diocese of Southwark and Wandsworth Council.
____________________________________________________
Follow us on Social Media
Window Venues & Artists
Window 1: Plot A07, Nine Elms Lane, London, SW8 5DF
Artist: Laura Goossens (Gooseglitters) | Title: PEACE ON PAPER
Window 2: Scott House, 23 Circus Rd West, SW11 8EH
Artist: Andrew Gibson | Title: WHOLE: (BATTERSEA PEACE GLOBE)
Window 3: Neon Black, 3b Ravine Way, SW11 7BH
Artist: Stefan Nedelcu | Title: 1.HOPE 2.MY HERO
Window 4: Embassy Gardens Marketing Suite, 1 Viaduct Gardens, SW11 7AY
Artist: Michael Wallner | Title: WORLD PIECE
Window 5: DNA VR, 18 Arches Lane, SW11 8AB
Artist: David Cardoso for DNA VR | Title: VIRTUAL WAR (AND PEACE!)
Window 6: Paul Edmonds, 3 Circus Road West, SW11 8EZ
Artist: Simple Truth | Title: PEACE AND LOVE
Window 7: Merchant's Way, New Covent Garden Market, SW8 5EL
Artist: Luke Walker – with Lindsay Schuman and Griffin Primary School | Title: A FOREST FOR PEACE IN THE CITY
Window 8: St Mary's RC School, 7 St Joseph's Street, SW8 4EN
Artist: The Staff and Children of St Mary's | Title: BETHLEHEM PEACE
Window 9: Newton Prep, 149 Battersea Park Road, SW8 4BX
Artist: WSP Architectural Lighting & the Children of Newton Prep | Title: WE'RE DREAMING OF A…. PEACEFUL WHITE CHRISTMAS
Window 10: Linnaen, 2 New Union Square, SW11 7AX
Artist: Adalberto Lonardi | Title: RECONNECTIONS (2021)
Window 11: static, 47 Nine Elms Lane, SW11 7DH
Artist: Prithi Brinkley | Title: EARTH'S GLORY
Window 12: Turbine Theatre, Arches Lane, SW11 8AB
Artist: Alessandra Tortone (Expert Window Art) | Title: PEACE IN A HAT
Window 13: Lexington Gardens, 40-42 Ponton Rd, SW8 5AX
Artist: Saskia Jiggens | Title: PRINCE OF PEACE
Window 14: Nine Elms Park Hoarding, Ponton Road, SW11 7DN
Artist: Joe Rashbrook (Signs by Joe) | Title: PEACE ON EARTH
Window 15: White & Co, 5 Circus Road West, SW11 8EZ
Artist: Nirali Patel | Title: THE GIFT OF PEACE
Window 16: St George's CE Primary School, Corunna Rd, SW8 4JS
Artist: Fee Uhssi | Title: UNITY IN DIVERSITY NATIVITY
Window 17: Battersea Barge, Nine Elms Lane, SW11 8PZ
Artist: Anna Cowie (with Micha Klein) | Title: FESTIVAL OF PEACE
Window 18: Moyses Stevens, 13 Circus Road West, SW11 8EZ
Artist: Andrea Bassoli | Title: FLORES DE PAZ (Flowers of Peace)
Window 19: Our Lady of Mount Carmel Church, 8a Battersea Park Rd, SW8 4BH
Artist: Daria Hass | Title: PEACE ANGEL
Window 20: The Mason's Arms, 169 Battersea Park Rd, SW8 4BT
Artist: Sol Gooden Sato | Title: PARADISE REGAINED
Window 21: Rose Community Club Room, 22 Ascalon St, SW8 4AN
Artist: Ania Kalacinska | Title: KIND OF YOU
Window 22: The Alchemist, 1 Ponton Rd, SW11 7BD
Artist: Lisa McKendrick | Title: PSYCHEDELIC VISIONARY
Window 23: Black Cab Coffee Co, 1 Riverlight Quay, SW11 8AU
Artist: Paul Chapman | Title: A SPECIAL DELIVERY
Window 24: St George's Church, 11 Patmore St, SW8 4JD
Artist: Alexa Muen | Title: LOVE IS LIGHT - (LUKE 2. 14)