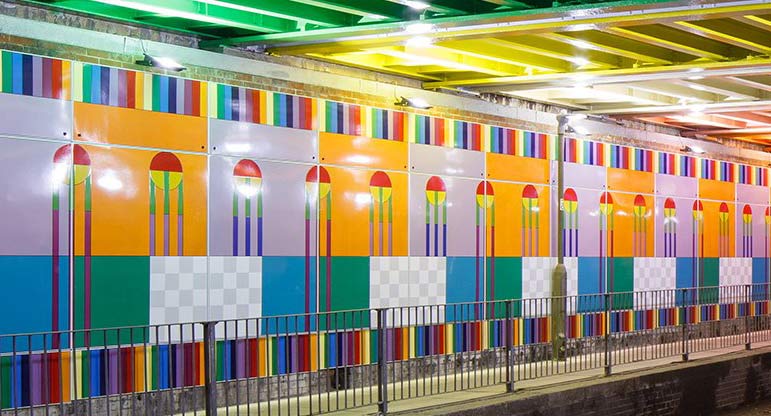 The Happiness Garden & Allotment
Our invitation to local residents...
Make recycled hanging baskets with the Green Fingers Gardening Club, get your face painted courtesy of Wandsworth Mediation Services, be served tea and cake by St. George's Church, and try your hand at simple craft activities designed to promote wellbeing with Nine Elms Arts Ministry. You can also share your ideas on happiness at the Table under the Trees or join one of the Round Table Happiness Conversations for an open discussion on how we pursue happiness as individuals and as a community.
Working in partnership with the cultural team at Wandsworth Council St George's Primary played a key role in the transformation of Thessaly Road to create a Happy Street design and Edible Avenue. At the project's completion in July 2019 the school supported the Happy Streets Festival when 1,800 people visited their grounds. During the Festival we asked local people what did they consider would make the community a happier place. Many of the responses were concerned with how people relate to each other and finding ways to bring people together. Over a third of the replies were specifically about the need for more open spaces, playgrounds, trees and 'beautiful spaces, places to meet and socialise with small trees for climbing and sitting under' as well as 'constructive activities for children and the community.'

One resident said "I've never met these people and they have been my neighbours for years. It has been so good to talk to people and work together in this space – I hope we can do something like this more often. I'd be happy to come and do some gardening and have time to get to know people".
I'd be happy to come and do some gardening and have time to get to know people"
Sign up for 2020's programme and other nineelms.org news