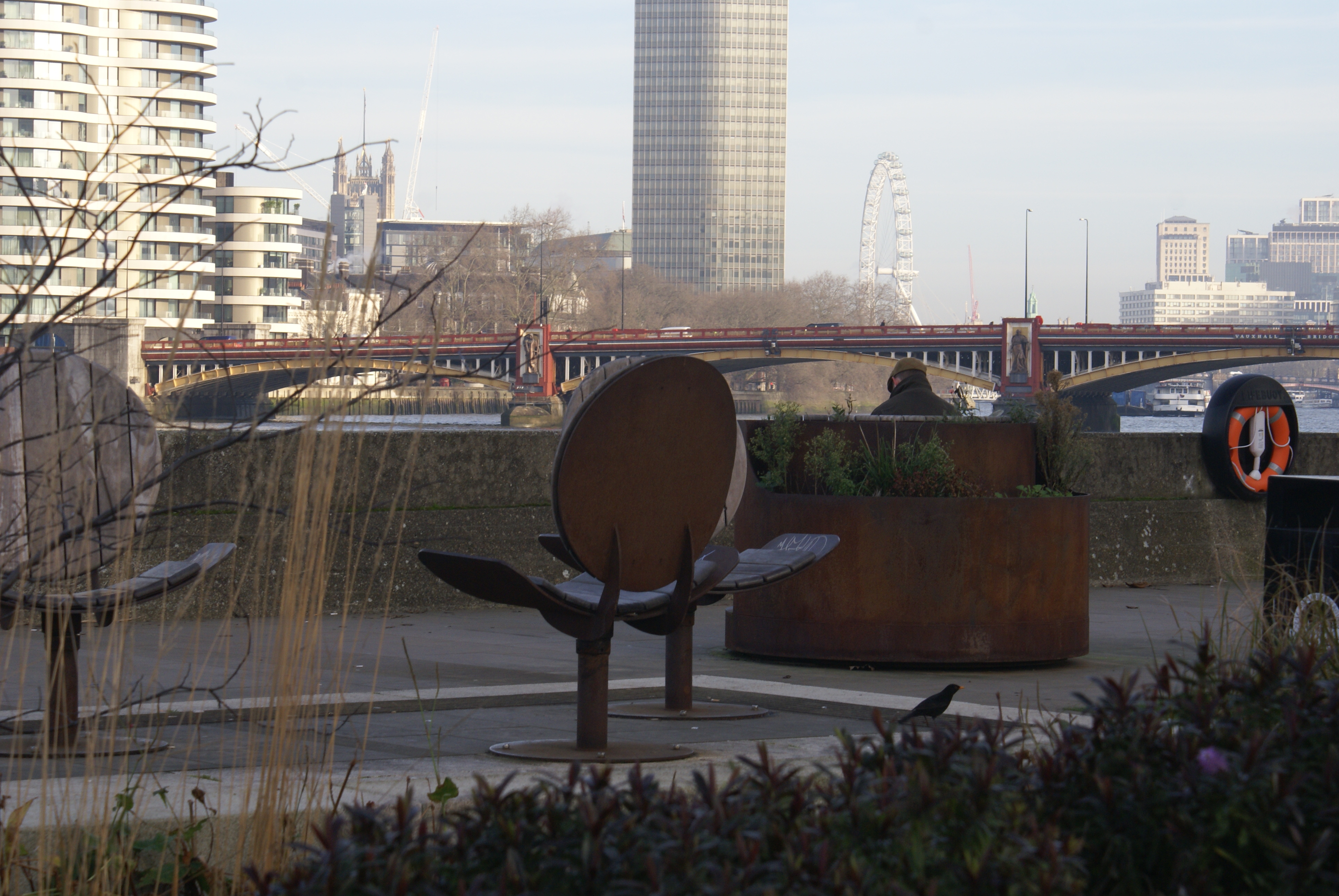 Nine Elms at the beginning of the 2020s presents a heady spectacle of engineering, building and progress. Once a day though, don't you fancy just seeing a bit of nature, slowing down and taking your mind off the enormity of it all? The Linear Park on the Nine Elms is just beginning to be visible, but it seems a long way to go until the promised walk from Vauxhall Bridge to the Battersea Power Station really takes shape, so I took a stroll to observe the scene at a more micro level.
Nine Elms Green Spot 1.
Take a rest on seating installation "Dawn to Dusk" by designer Tord Boontje. If you're asking why you want to sit there, Boontje's title for the work says it all. Watch the Thames Clipper go by and think about the ships that used to pass through here down to the sea.
Tord Boontje is almost a local in that he studied (and taught) at the Royal College of Art which now has a major campus down by Battersea Bridge. He's a storyteller, adding a time-dimension literally and figuratively to his rotating seating scheme.
Look behind you for a bird's nest – winter trees are such a good time to spot nests, that you can later stake out for a bit of spring bird-watching.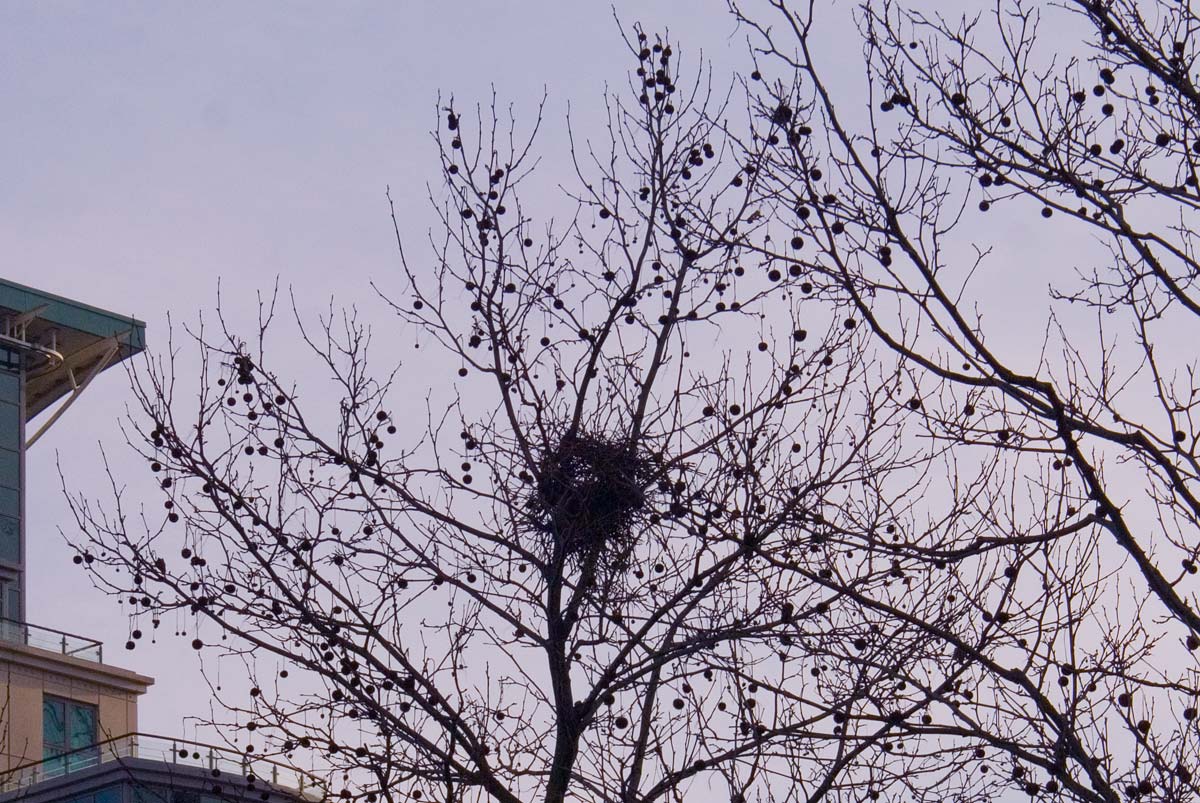 Green Spot 2. St George's wharf residents garden
A parterre garden referencing medieval formal garden design seems an unusual choice in the super-modern complex next to Vauxhall bridge. But the box hedges are drought-hardy and the interplanting of lavender and herbs gives off a soothing scent on still evenings.
Can I sit inside the garden? Not exactly, unless you're a resident, but the inside is hardly more pleasurable than the outside.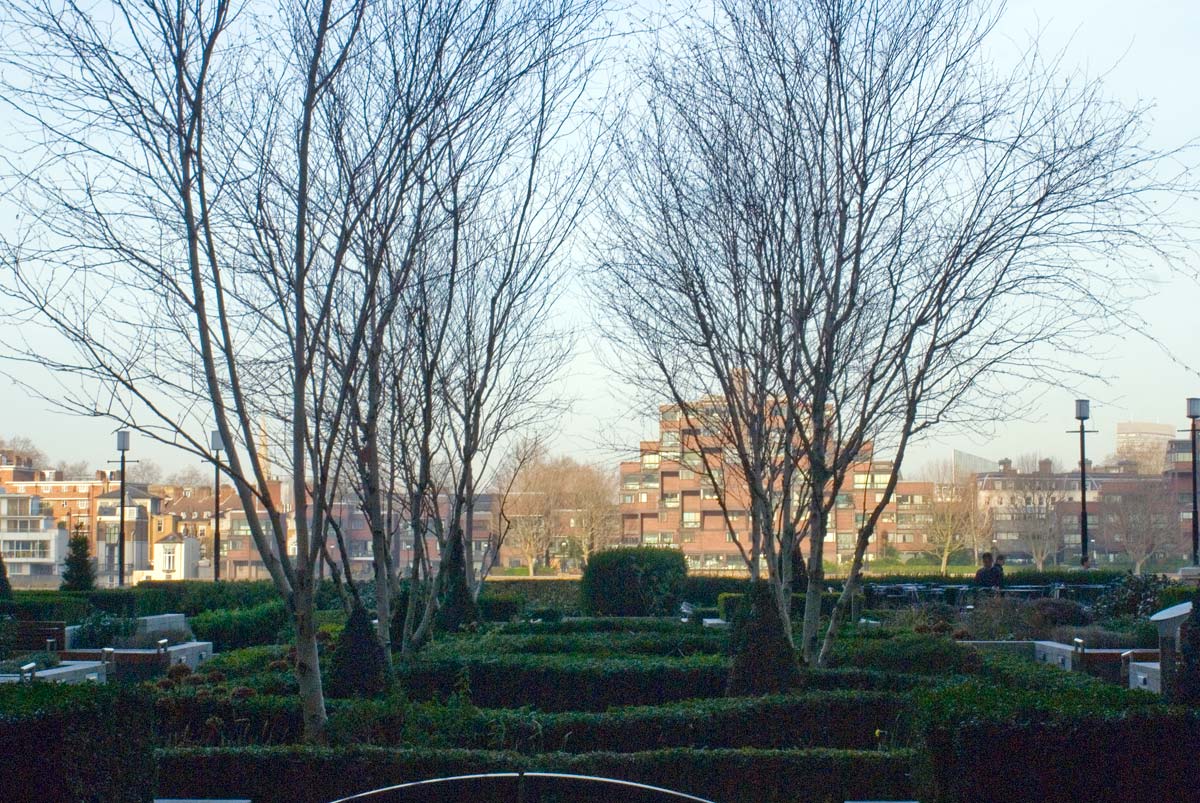 Green Spot 3.
Heathland shrubs and mountain cyclamen against granite feels like Scotland, but it's actually in the private gardens of the Vauxhall tower (you can peep over the gate).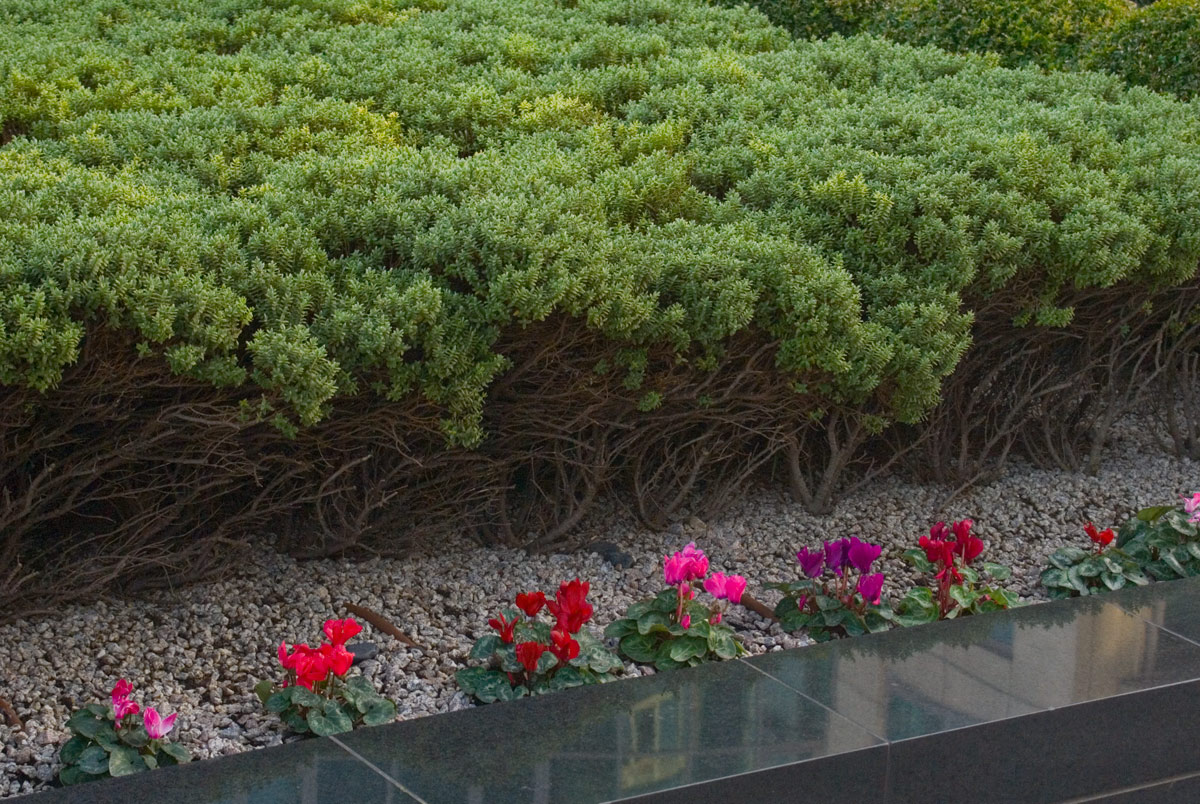 Green Spot 4. Bourne Valley Wharf
A touch obvious perhaps, but we must give time to the veritable Nine Elms. This time last year, two new elms were planted here, near the Nine Elms Pavilion to replace two missing – making the total nine again. The Conservation Foundation has created a public elms survey to map all mature elms in the UK, that records the state of the elm population in response to the devastating Dutch elm disease which has killed millions of elm trees in the UK over the last 40 years. These are very precious trees indeed.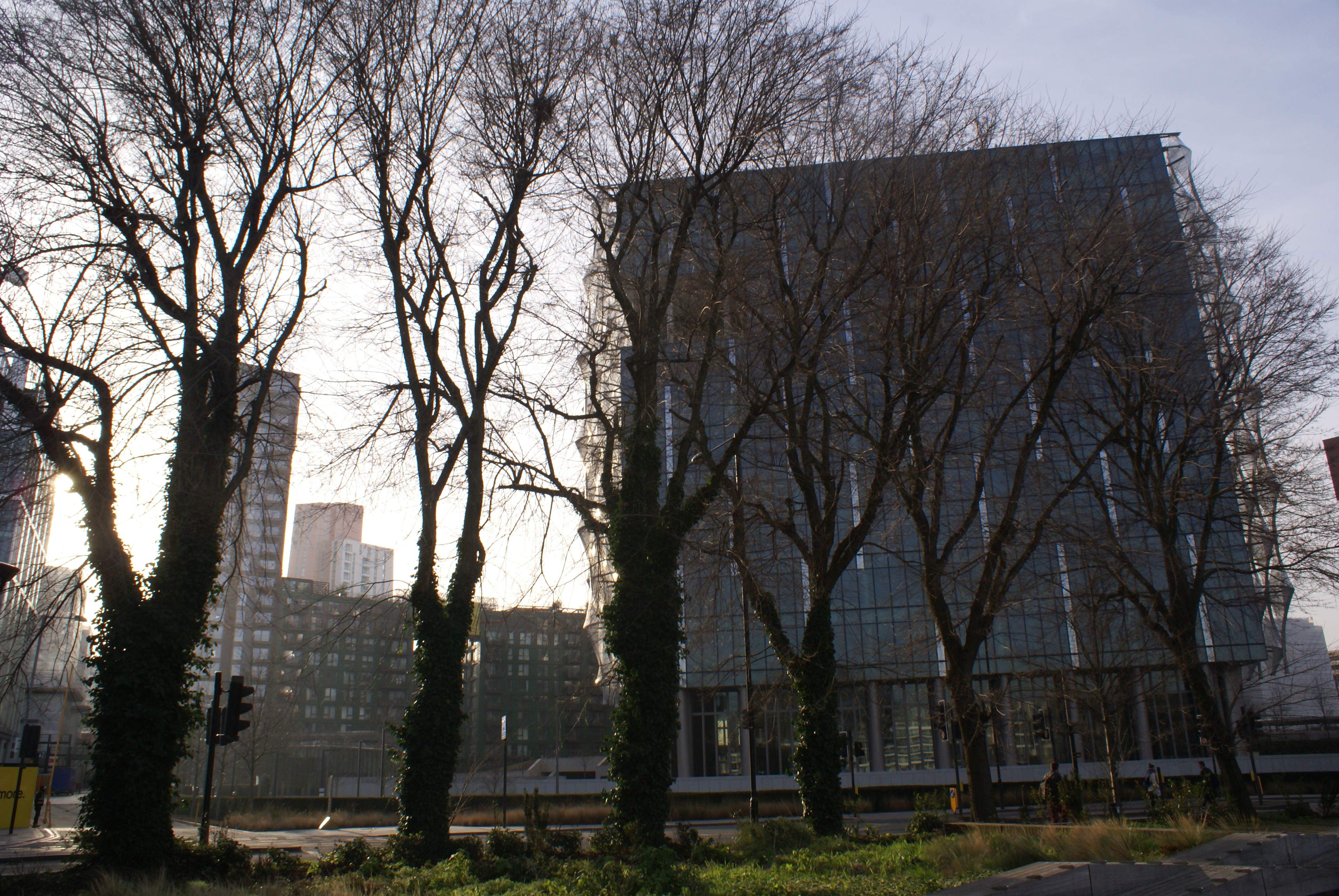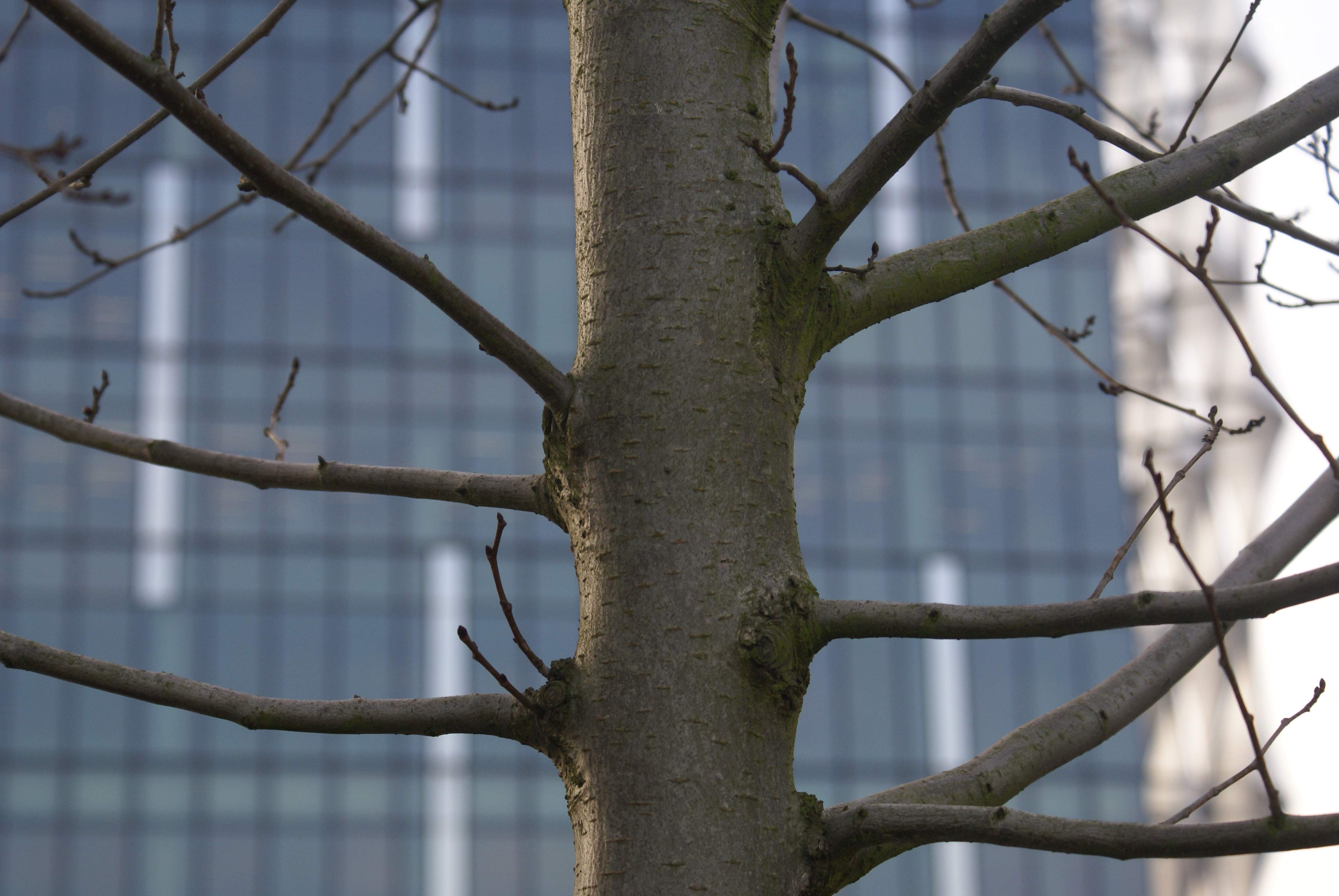 Green Spot 5.
As part of the Heathwall Pumping station development (aka the "super sewer") this sculpted lawn and bench combination is an opportunity for a little lounging especially when the sun peeps out. Alongside is traditional native thicket hedging and some low level woodland planting. But the main reason you'd want to sit here is to watch the cool cormorants hanging out their wings to dry. They don't seem to have noticed the transition to super-modern cityscape from the wild waterway that the Thames once was.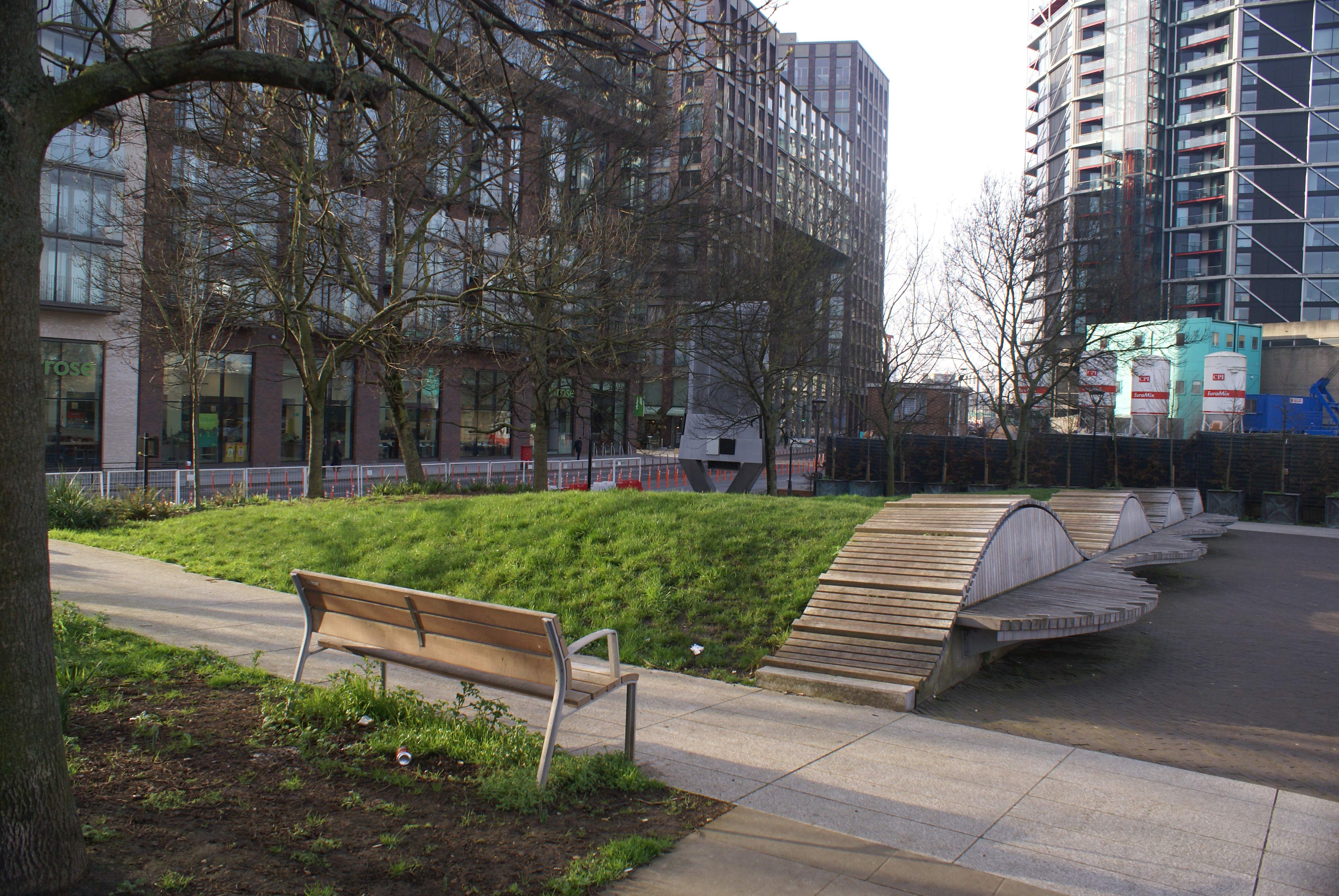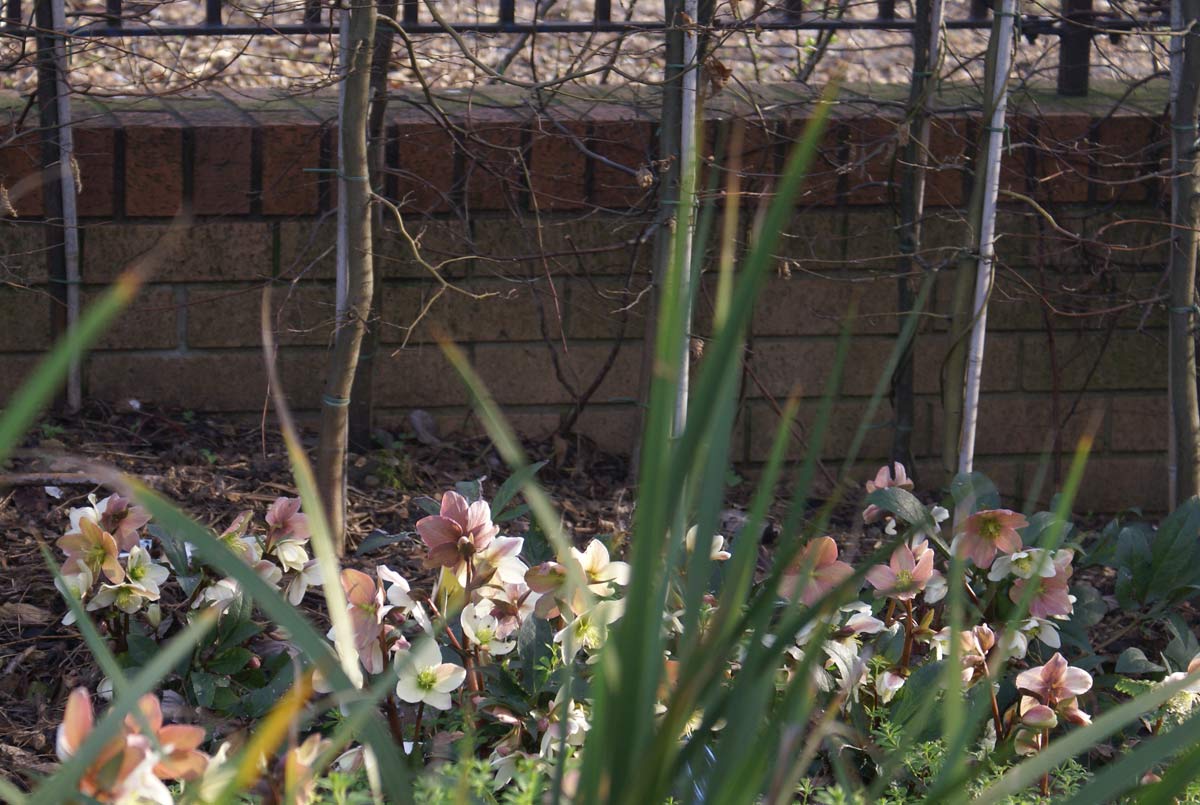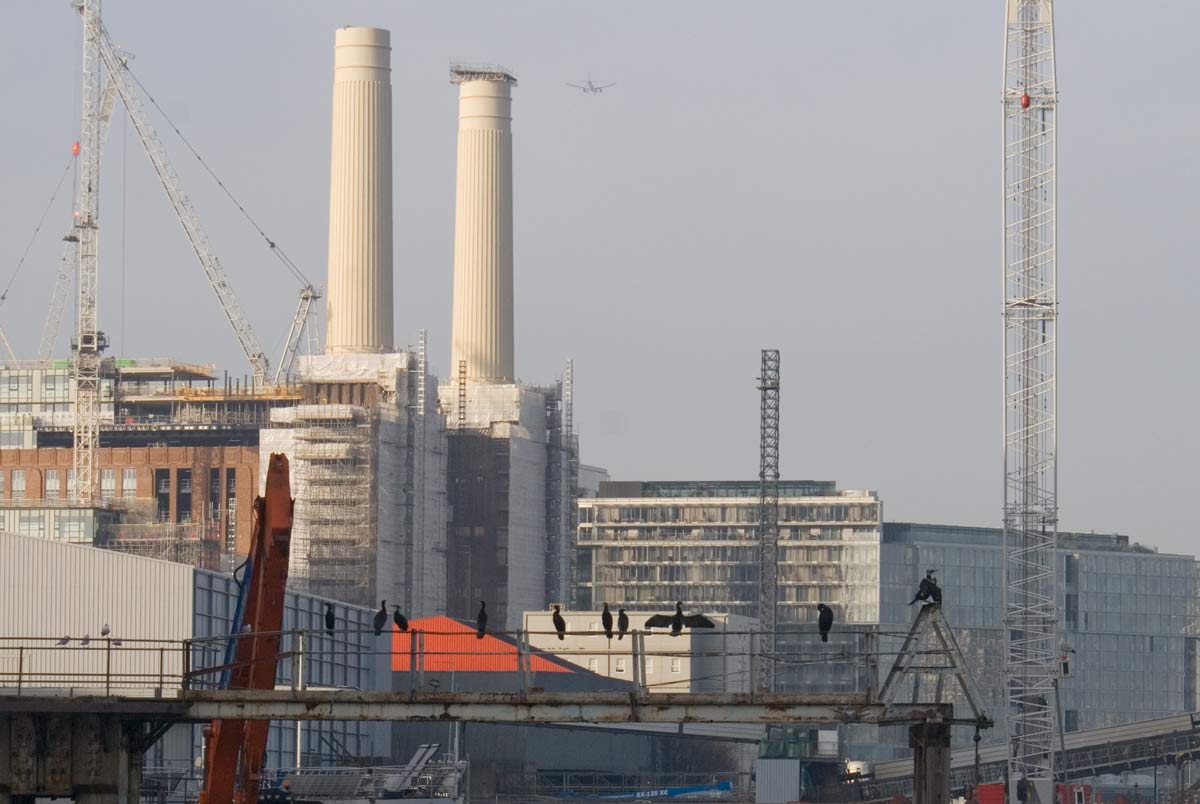 Green Spot 6.
Things have yet to really take off in the landscaped gardens around the US Embassy – they're so new they need a little more time to establish. But it's a surprisingly soothing spot to stop, listening to the water flow, and watching the grasses sway. Young floodplain trees show their beautiful bark in the low winter sun.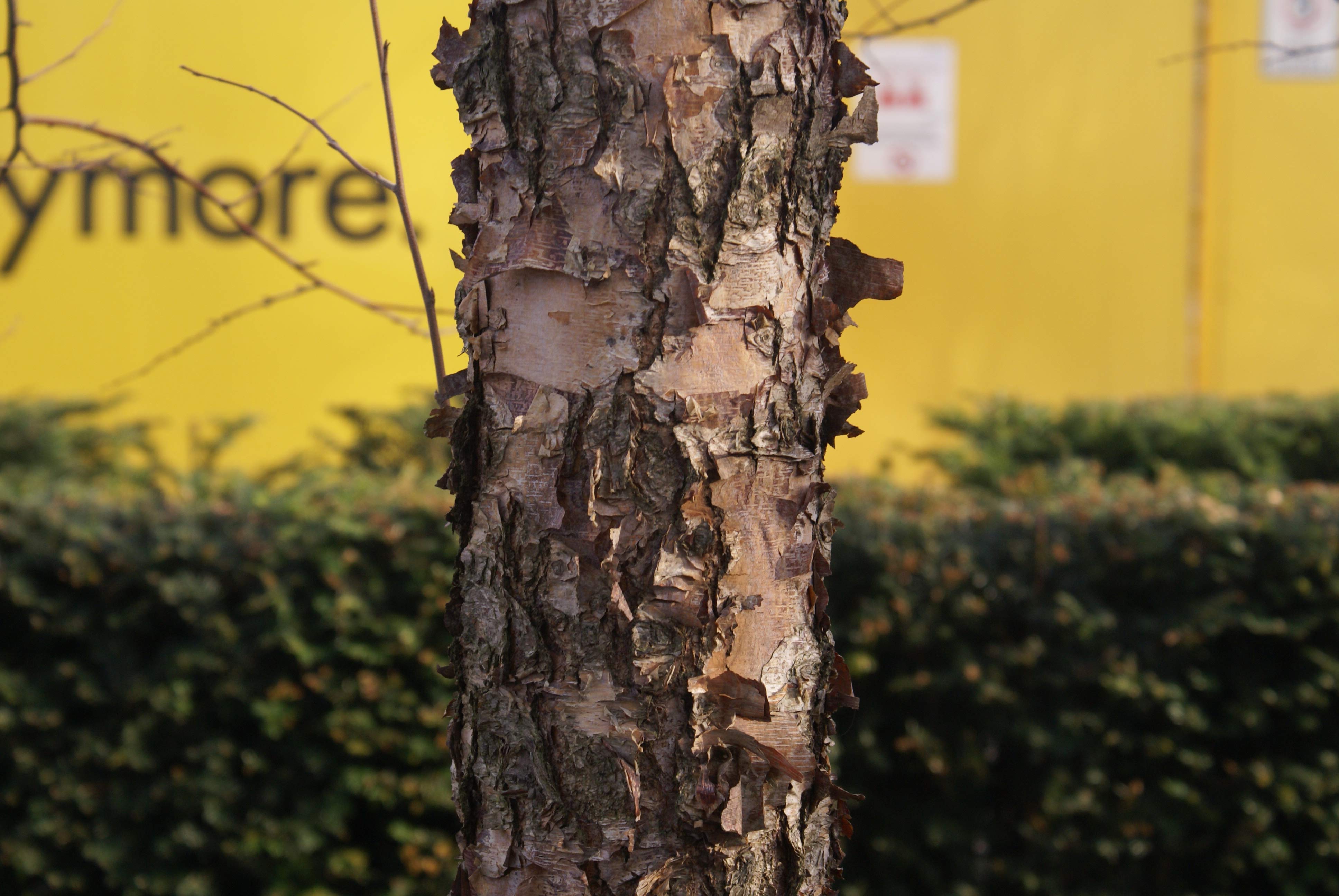 Green Spot 7.
The pool behind the US Embassy shows some of the Linear Park opening up.
It's tranquil and stylish with faux stepping stones and lined with waterplants that will mature into wetland splendour.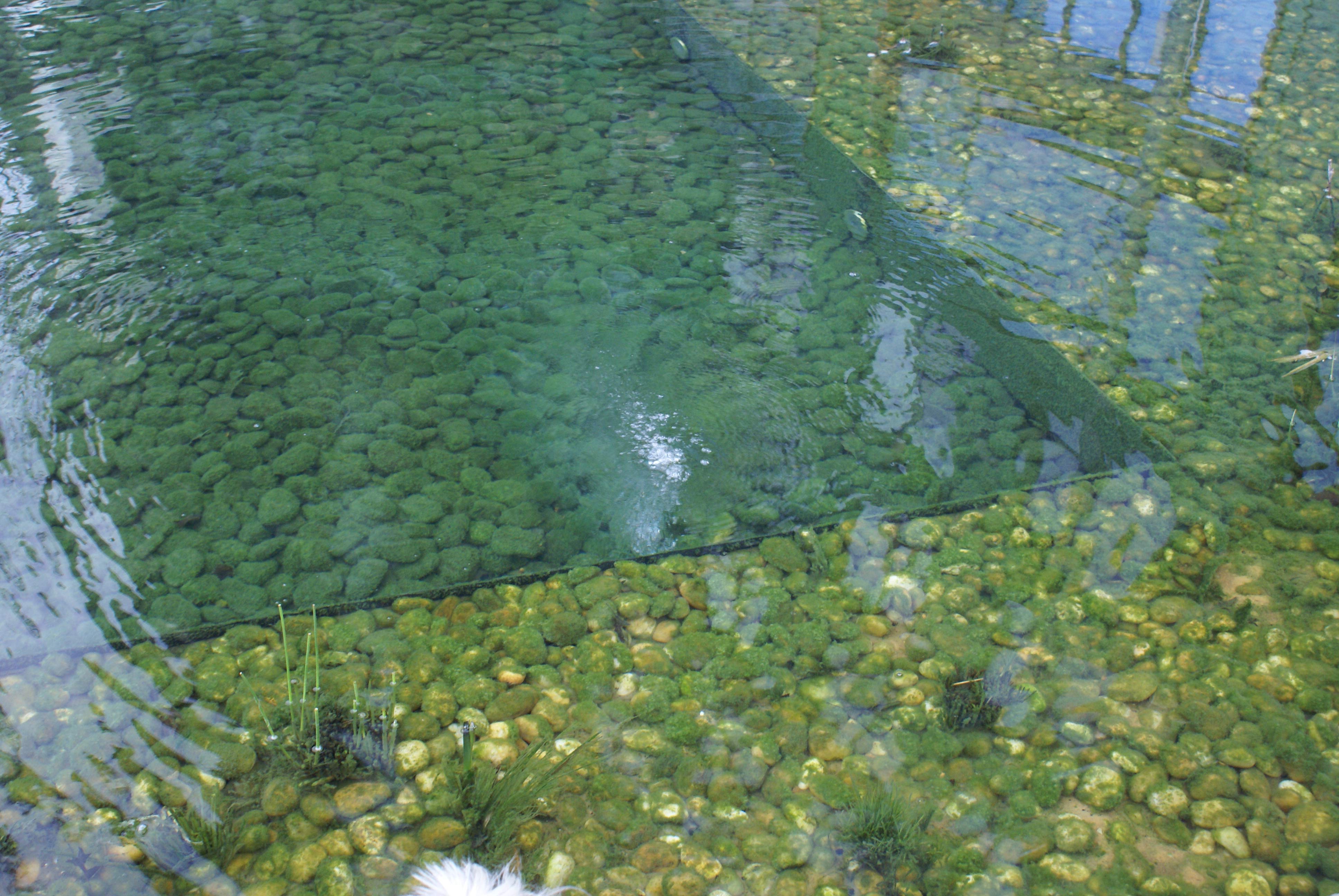 Green Spot 8.
If you haven't been out of London for a while, here's a reminder of the English countryside. With 'Neolithic' stone monuments, oaks, coppicing and brackens you can almost hear Henry the Eighth's hunting-party riding by. This area behind Viaduct Gardens has a canopy of shade, not from trees, but from the tall buildings surrounding it, so the woodland planting thrives here.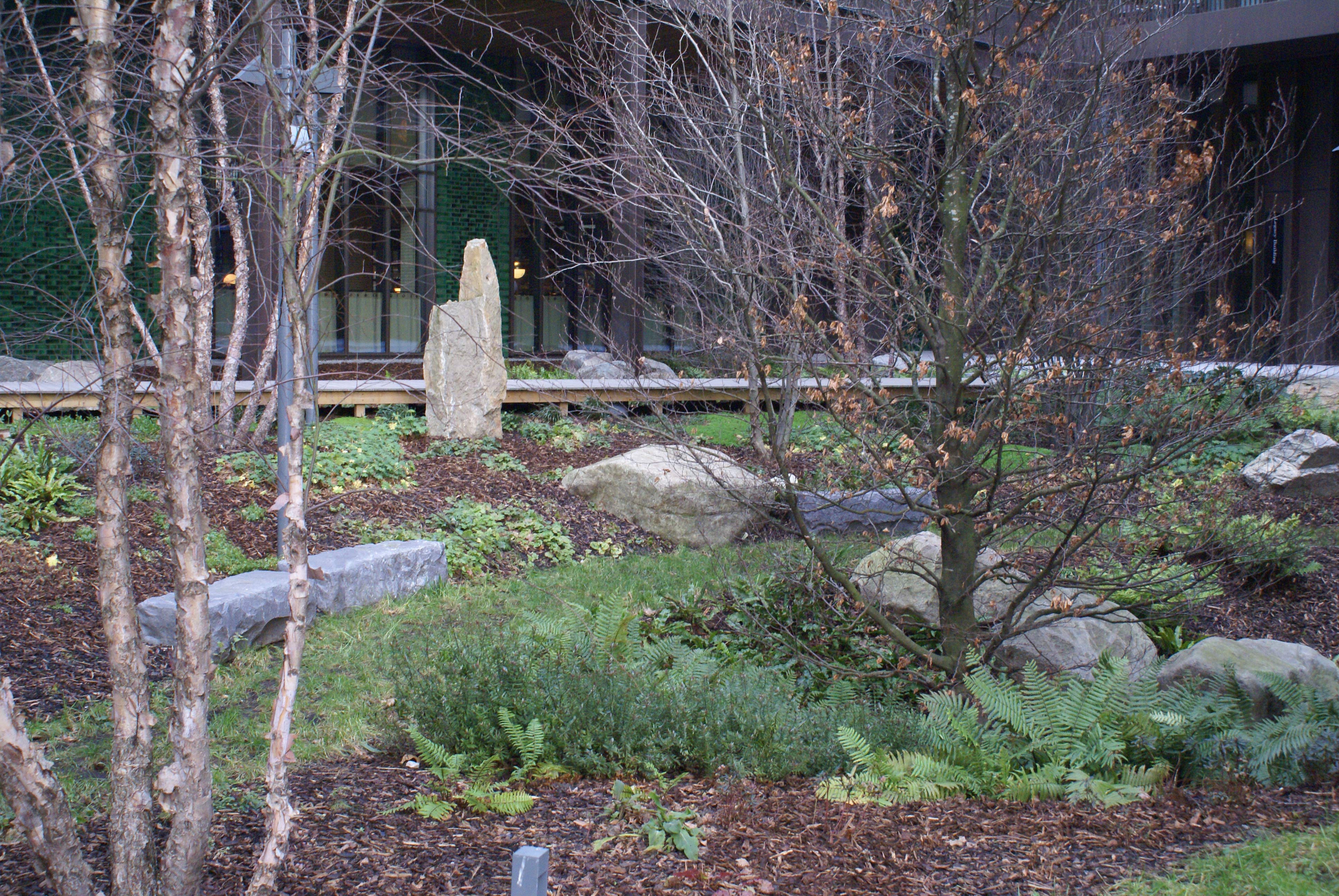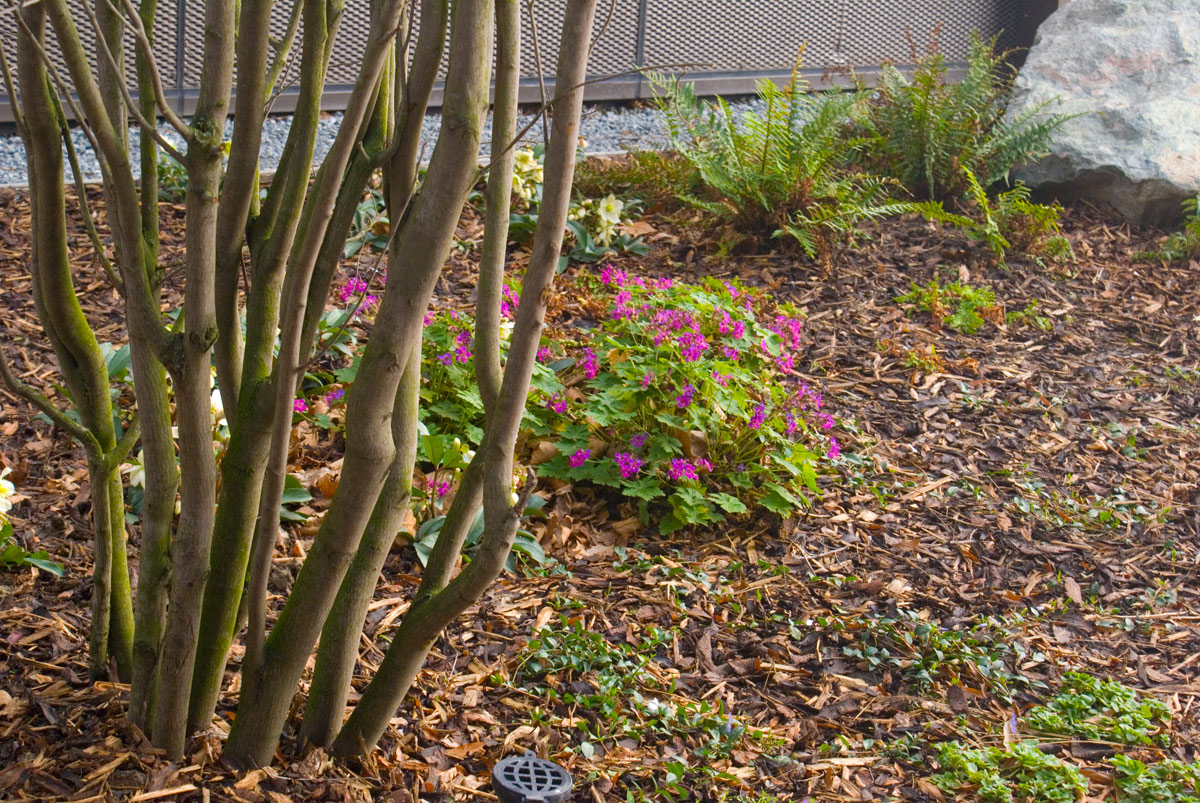 Green Spot 9.
Eat a sandwich in relative peace behind Lexington Gardens. Hardwearing municipal plants soften the rectilinear benches and walls and the very straight trees offer a pleasing European style to this square. If trainspotting is your thing you just look to behind you and if artspotting's your thing, Matt's Gallery (not yet open) is right there for a contemporary art hit at lunchtime. And Matt's is a green spot too!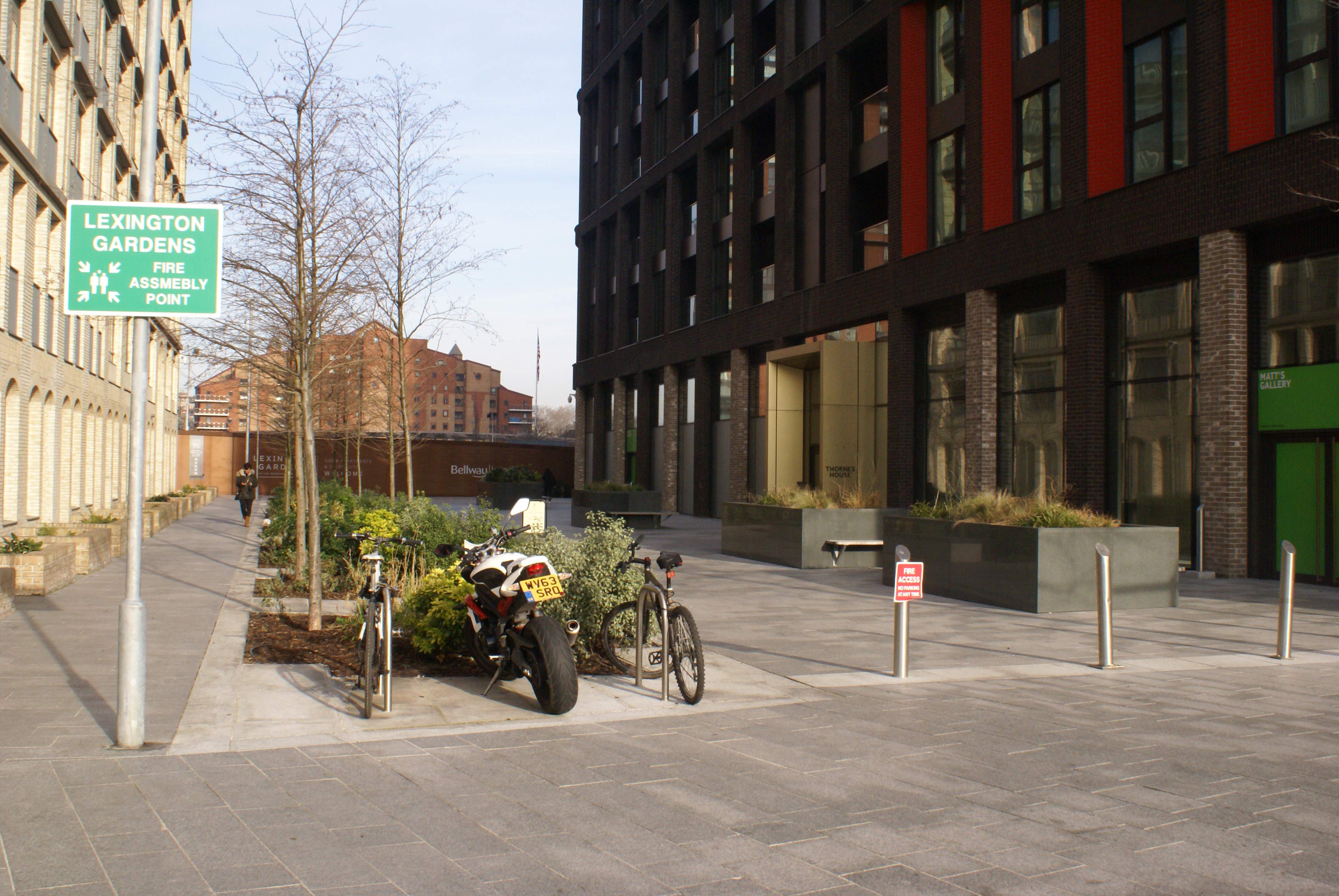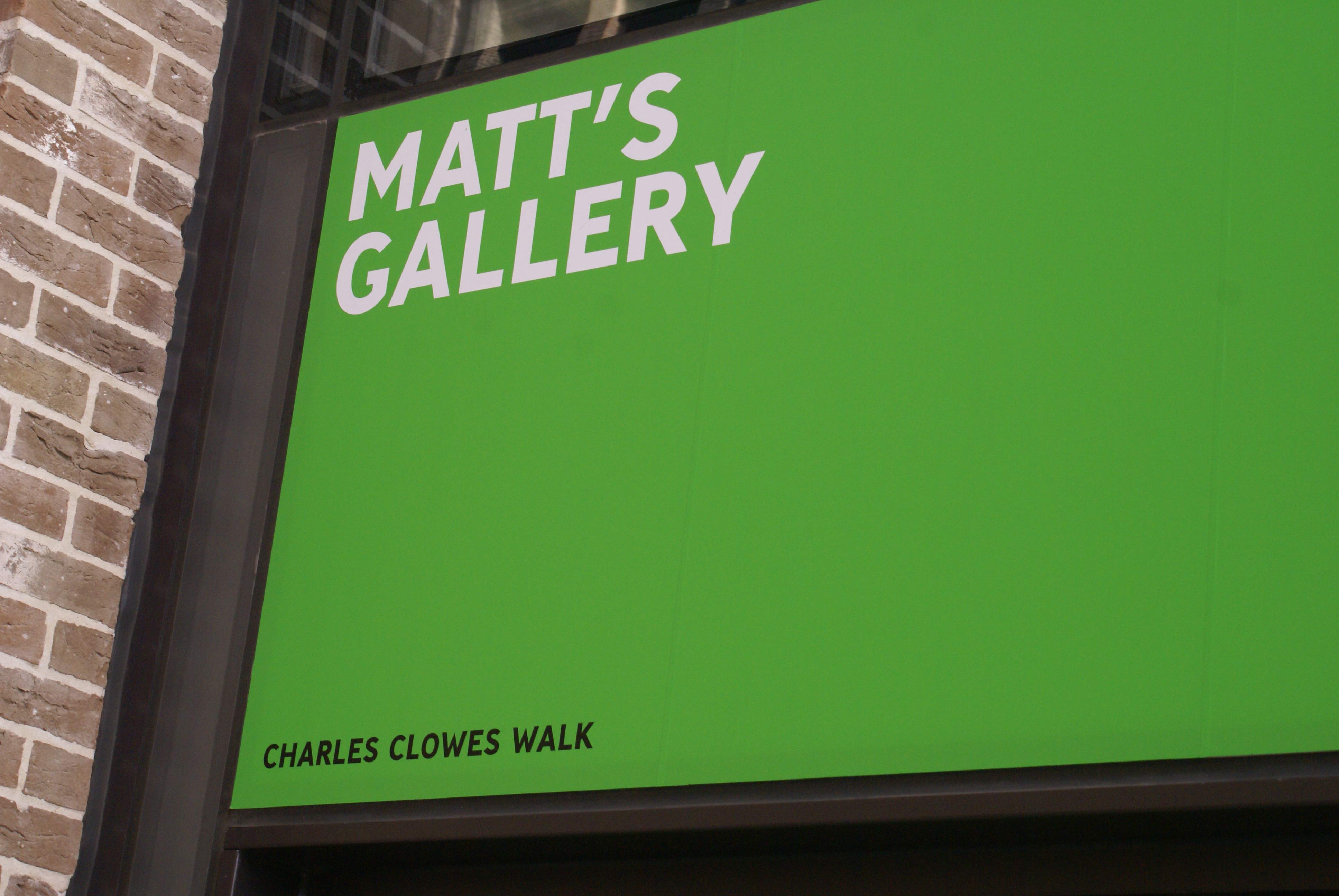 We are Friends of Nine Elms Parks. nineelms.org
Wil Bunn 10 Feb 2020